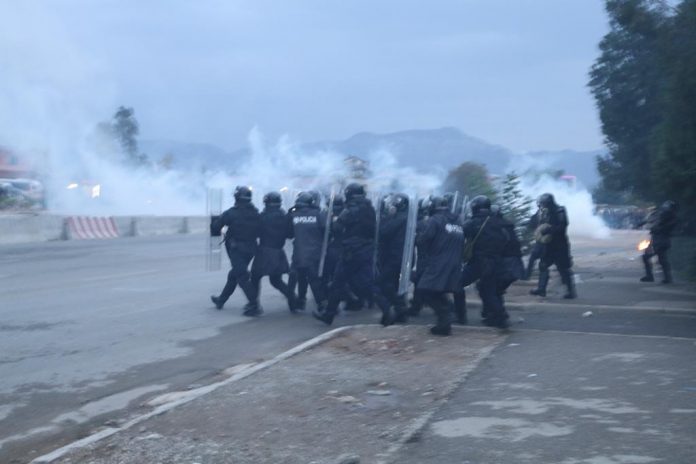 By Boldnews.al
Thousands of police forces landed Tuesday morning in the "New Ring" and waged unprecedented violence just like Erdogan did against Kurds in northern Syria. The warned action against the resistance of the inhabitants showed once again that we are a degraded society unwrapped by every moral and human value.
The country's prime minister indicated again that he would do everything for his stubbornness, and the corruption that warmed his pockets and cooled his head. No cabinet member or Socialist lawmaker reacted today to the animal abuse at the New Ring. The interior minister, a "Highlander" violating every law, every doctrine and every Albanian canon, poisoned women and children through the chemical gases he dispensed without limit, committing genocide against his own people.
General Lleshaj is the symbol the shame for "highlander" word. He can no longer be a Mirditor, not an Albanian, a socialist, a brother, a father, a son, he is just a rogue in the hands of power.
Today no cell of the Socialist Party reacted, becoming so a group to the crime of rogue Lleshaj. Today, Rama's reborn socialists behaved as their spiritual or biological fathers of the PPSH, while in front of them were the Astir's Kulaks, who were treated worse than they who were called Kulaks 40 or 50 years ago.
The opposition launched facebook statements today, though some of its members went there among residents. But we saw no action by the opposition to stop the police genocide against civilians, Albanian citizens.
The opposition's leader Lulzim Basha should have slept at Astir today and made it clear to Sander Lleshaj and any police chief, that they would respond legally and illegally to what they were doing.
In fact, like all the actions of the last year, except for the burning of seats, this time the opposition was behind again. Are opposition leaders living here or are the oligarchs' sweets delicious enough to sleep until late?
Beyond this immoral, degenerate, barren and guilty corrupt political level today society shocked us.
We saw no policeman throw his hat into doing that shit. We saw no IKMT inspector or fadromist refuse to be part of the genocide on the residents. We all saw the payrolls line up to support a total animal welfare illegality through brutal genocide.
Today we did not see at the "Ring", the Ombudsman, who had previously spoken of dialogue between residents and the government, while today she remained silent in the face of the power-lined gang and the uniformed crime.
Today we did not see at the "New Ring" even these Helsinki women who talk about human rights, those who do workshops in Rogner where they talk about Albania.
Today we have not even seen those dozens of organizations, which annually raise millions of euros and dollars, hold lectures and seminars, talk about democracy and human rights, but never respond to terror, violence and destruction without law, without constitution, without morality.
Today we did not even see the citizens in solidarity with a group of residents, surely tomorrow, in other circumstances, will be their turn.
Today we saw neither Luigi Sorecea make any statement nor this cartoon, the OSBE ambassador saying two words calling the government for restraint. Maybe we're asking for too much. They certainly were in the warm feathers of power cheering for the members of the unconstitutionally elected constitutional court.
Today, we did not even see this workload of the US Embassy in Tirana, who speaks volumes about the supremacy of the government over the Albanian people.
We are talking about this ambassador who is strongly investing in turning Albanians into an anti-American people in a very short time. For that embassy that looks like the statements are written by Endri Fuga, and the citizens curse her on social networks just like they do with Erion Veliaj.
Today our society is over, and so is the resistance in Astir.